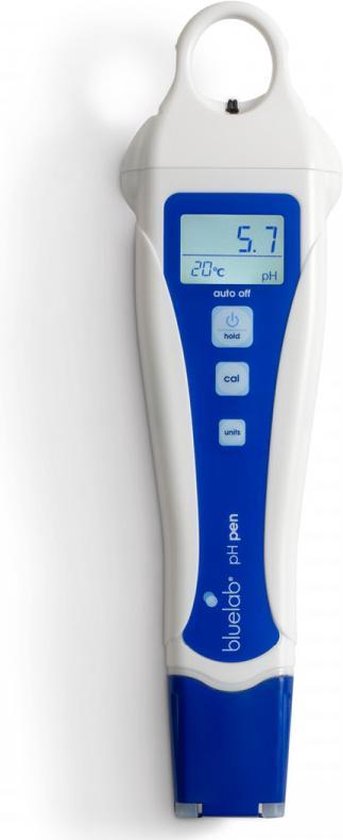 Bluelab PH Pen - PH Meter Digitaal - PH meter water
starstarstarstarstar
0 reviews
View the deal of € 119,- which is offered by bol.com
All deals (1)
Store

Deal

Price
Stock
Product description
Met de compacte Bluelab pH-pen meet u nauwkeurig de pH-waarde en temperatuur van een voedingsoplossing. Zo weet u precies of en welke aanpassingen nodig zijn.
Om de opname van voedingsstoffen te vergroten, hebben planten een bepaalde pH-waarde nodig. Deze waarde geeft de zuurtegraad of alkaliteit van het voedingswater aan. Met behulp van de Bluelab pH-meter bepaalt en realiseert u de juiste waarde om de groei van uw planten te stimuleren.
Naast de pH-waarde, meet de Bluelab pH Pen ook de temperatuur van de oplossing. De temperatuur is van belang voor het groeitempo en de structuur van een plant. In de meeste gevallen is een oplossingstemperatuur van 18-22 ˚C of 65-72 ˚F ideaal.
Plaats simpelweg de pH-sonde in de oplossing en de gekozen waarde wordt weergegeven op het scherm. Is de sonde toe aan vervanging? Dan kunt u deze ook los bestellen.
TIP!
Samen met de Bluelab EC Pen beschikt u over een robuust, handig en zeer nauwkeurig meetsysteem.
Specificaties


Bluelab draagbare pH-pen;


pH & temperatuur meter;


Waterdicht;


0 tot 14.0 pH bereik;


1 pH resolutie;


± 0.1 pH nauwkeurig;


3 pH ijkpunten - pH 4, 7 en 10;


Temperatuur meting 1 °C nauwkeurig;


Batterij-indicator;


Automatische off-functie;


Automatische Temperatuur Compensatie;


1 jaar garantie;


Inclusief 1 x AAA batterij.