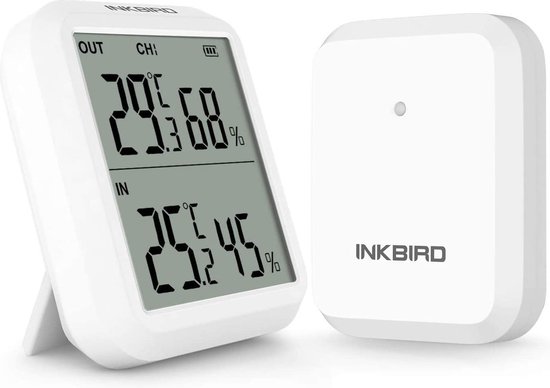 Inkbird ITH-20R Thermometer Hygrometer met 3 Radiozenders, Radio-Weerstation Ideaal voor Terrarium Reptielen
starstarstarstarstar
1 reviews
View the deal of € 59,- which is offered by bol.com
All deals (1)
Store

Deal

Price
Stock
Product description
De Inkbird ITH-20R biedt een snelle en nauwkeurige weergave van luchtvochtigheid en temperatuur. Je kunt Fahrenheit of Celsius, afhankelijk van je persoonlijke voorkeur selecteren.De draadloze afstandsbedieningssensor met een bereik tot 90 meter, is geschikt voor een groot aantal scenario's en kan bijna overal worden gebruikt.
Soortgelijke parametersMerk: Inkbird.Model: ITH-20ROverdrachtfrequentie: 433MHz.Overdrachtbereik: 300 voetMaximaal beschikbare zender: 3Voeding: 2 AAA-batterijen (niet inbegrepen).Afmetingen ontvanger: 75 x 64 x 21 mm.Afmetingen zender: 75 x 64 x 21 mm.Temperatuurmeetbereik van de ontvanger: -20 tot 60 graden Celsius.Vochtmeetbereik van de ontvanger: 10 ~ 95%.Temperatuurmeetbereik van de zender: -40 tot 70 graden Celsius.Vochtmeetbereik van de zender: 10 ~ 95%.Temperatuurmeetbereik van de zendersonde: -50 ~ 125 ℃ (-58 ~ 257 °F).Nauwkeurigheid van de temperatuurmeting: ± 1 °C.Nauwkeurigheid van de vochtigheidsmeting: ± 5%.Bemonsteringstijd: 10 seconden.Buiten bereik weergave: "HH.L" of "LL.L".Garantie: 12 maanden
Verpakkingsinhoud:ITH-20R 1 x temperatuur en vochtigheidsmonitor met 1 zender:1 x ontvanger.3 zenders.1 x schroevendraaier.1 x externe sonde.1 x gebruikershandleiding (mogelijk niet beschikbaar in1 x garantiekaart.
Tips:Waterdichte buitensensor niet onder water dompelen. Wij raden aan om het apparaat voor langdurig gebruik en nauwkeuriger metingen te beschermen tegen zon en regen.