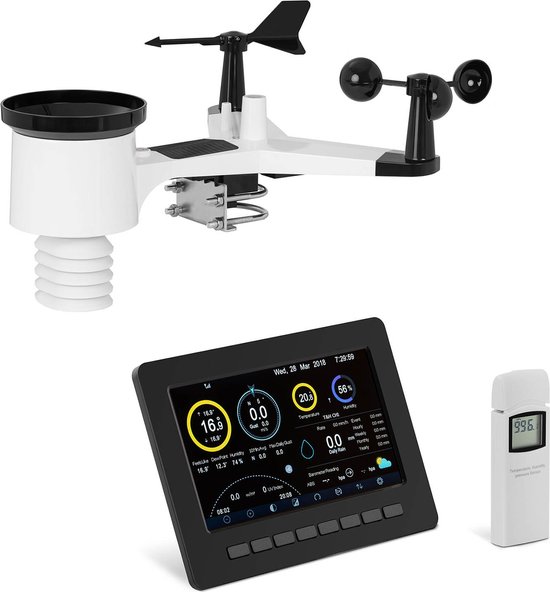 Steinberg Systems WiFi-weerstation - LCD 7 "- USB - binnensensor
starstarstarstarstar
0 reviews
View the deal of € 299,- which is offered by bol.com
All deals (1)
Store

Deal

Price
Stock
Product description
Uitgebreid WiFi-weerstation met talrijke interfaces
WiFi maakt het mogelijk! Het draadloze weerstation sluit je aan op je computer en je hebt toegang tot de weerservers van Ecowitt, WU, Weathercloud en WOW. Dit geeft u nog meer mogelijkheden om uw weergegevens in realtime te analyseren. U kunt de console ook via USB (kabel niet meegeleverd) op uw computer aansluiten of de verzamelde gegevens opslaan op een SD-kaart.
Product hoogtepunten
7 " LCD-scherm
Bereik 100 m
WiFi / online services
Weer waarschuwing
USB poort
Maar eerst verzamelt het wifi-weerstation tal van weergegevens, die ook een weersvoorspelling mogelijk maken. De buitensensor is draadloos verbonden met het station op een afstand van maximaal 100 m en verzamelt gegevens over temperatuur, vochtigheid, windsnelheid, windrichting, luchtdruk, UV-straling en helderheid. Alle gegevens worden duidelijk weergegeven op het 7" grote LCD-display met achtergrondverlichting, waar deze ook direct kan worden opgeroepen. Het buitenstation van het draadloze weerstation WiFi wordt bediend met zonnecellen, waarbij ook twee batterijen als back-up worden gebruikt. In de Set zit ook een binnensensor die je informatie geeft over het binnenklimaat. Dankzij de modernste meettechnologie bepaalt het wifi-weerstation uit de verzamelde weergegevens een trend voor het weer, die wordt weergegeven met een duidelijk pictogram. Temperatuurwaarden kunnen worden weergegeven in °C of °F en windsnelheid in mph, m/s, km/h, knopen, ft/m of Beaufort, afhankelijk van de voorkeur. Neerslaggegevens kunnen worden verzameld en geëvalueerd over korte en lange perioden. Voor sommige weergegevens kun je een maximum of minimum bepalen, op basis waarvan het professionele wifi weerstation waarschuwt voor extreme weersomstandigheden.