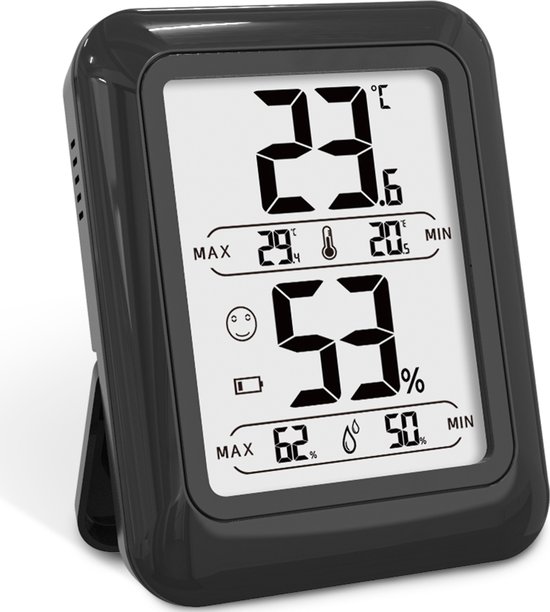 Strex Digitale Thermo Hygrometer Zwart - Digitale Thermo Meter Binnen - Hygro Meter Binnen - Weerstation Met Luchtvochtigheidsmeter - Inclusief Batterij
starstarstarstarstar_half
1 reviews
View the deal of € 14.95 which is offered by bol.com
All deals (1)
Store

Deal

Price
Stock
Product description
De digitale
thermo
- en
hygrometer
van Strex meet
nauwkeurig
de
luchtvochtigheid
en
kamertemperatuur
in huis. Dit kleine maar slimme apparaat geeft in één oogopslag weer of de ruimte te droog, te vochtig, te warm of te koud is. Plaats de thermometer-/hygrometer op een centrale plek in huis en hij doet meteen zijn werk. Kortom de thermometer van Strex zorgt voor een
optimale leefomgeving
.
Nauwkeurig
De sensor van de thermometer meet nauwkeurig elke 10 seconden de temperatuur en luchtvochtigheid. Temperatuur van -50℃~ 70℃ en luchtvochtigheid van 10% ~ 99%
Snel & simpel
Geen installatie nodig. Verwijder simpelweg het beschermfolie van de bijgeleverde batterij en de thermometer is klaar voor gebruik.
Compact formaat
Compact en lichtgewicht ontwerp, zodat je hem gemakkelijk overal kunt plaatsen. Ideaal op het bureau of nachtkastje.
Jouw voordelen
✓ Meet temperatuur en luchtvochtigheid✓ Met comfort niveau indicator✓ Met standaard en ophanguitsparing✓ Inclusief batterij✓ Beschikbaar in 2 kleuren
Slim design
Zet hem neer op tafel, hang hem aan de muur met de uitsparing of plak de meter ergens op middels een plakstrip. Te plaatsen waar je maar wilt.
Comfort indicatie
Niveaupictogrammen geven comfortabele, oncomfortabele en normale omstandigheden aan. De Strex-hygrometer/thermometer meet de luchtvochtigheid en temperatuur en geeft aan of het klimaat wel of niet goed is.
Specificaties
Temperatuur range: -50℃~ 70℃
Luchtvochtigheid range: 10% ~ 99%
Comfort niveaus: Dry, Comfort, Wet
Temperatuur: ℃ Of ℉
Temperatuur eenheid: 0.1℃/℉
Temperatuur nauwkeurigheid: 1℃
Luchtvochtigheid eenheid: 1%
Luchtvochtigheid nauwkeurigheid: 2%
Update frequentie: 10 Seconden
Afmetingen: 8.5 x 1.9 x 6.8 CM
Kleur: Zwart
Batterij: 1x AAA 1.5V (inbegrepen)