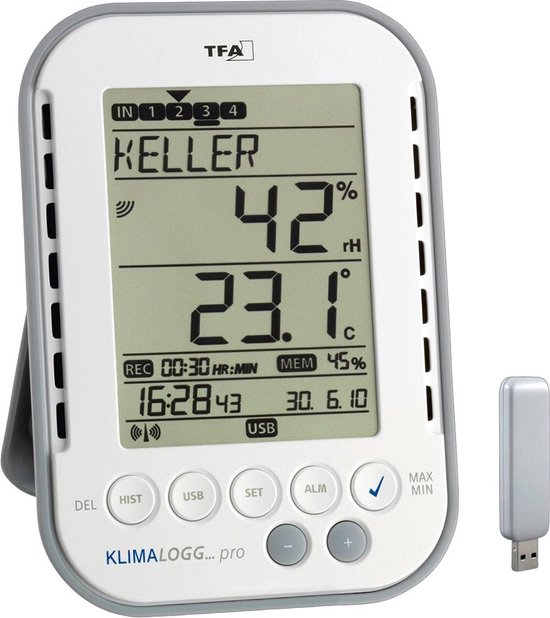 TFA Dostmann KlimaLogg Pro Luchtvochtigheidsmeter (hygrometer) 1 % Hrel 99 % Hrel Datalogger en radio-USB-interface, Da
starstarstarstarstar
0 reviews
View the deal of € 73.99 which is offered by bol.com
All deals (1)
Store

Deal

Price
Stock
Product description
TFA Dostmann KlimaLogg Pro Luchtvochtigheidsmeter (hygrometer) 1 % Hrel 99 % Hrel Datalogger en radio-USB-interface, Da Ideaal voor de bewaking van temperatuur en vochtigheid in ruimten waar een constante luchtvochtigheid vereist is, zoals bijv. voorraadkelders, opslagruimten, productieruimten, kantoren, etc. De meetwaarden worden opgeslagen en kunnen zo altijd begrepen worden. Door de alarmfunctie wordt u bij onbetrouwbare waarden gewaarschuwd en kunt u maatregelen treffen om schade te voorkomen.
Features
Weergave van luchtvochtigheid, temperatuur, dauwpunt op afroep, hoogste en laagste waarden met informatie over het tijdstip
Optisch of akoestisch alarm indien de vrij instelbare temperatuur- en vochtwaarden hoger of lager zijn
Alarm-event-records voor gerichte analyse
Highlights
Ideaal voor bewaking gedurende lange tijd van maximaal 9 ruimten
Met alarmfunctie
Met dataloggerfunctie
Leveromvang
Batterijen · USB-/draadloze dongle · Gebruiksaanwijzing.
Opmerking
Windows software is beschikbaar in het gedeelte Downloads. Illustration similar.