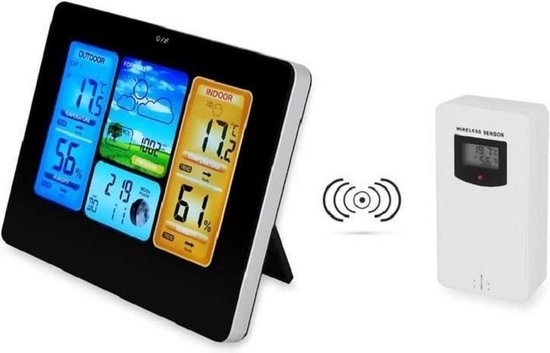 Weerstation - Met Color Display - Digital Thermo meter - Hygrometer - Sensor bereik 60 M - Kado Tip !!
starstarstarstarstar
1 reviews
View the deal of € 37.40 which is offered by bol.com
All deals (1)
Store

Deal

Price
Stock
Product description
Met een goed weerstation heb je geen weer app of weersverwachting meer nodig.
Temperatuurmeting binnen en buiten
Meting van de binnen- en buitenvochtigheid
Luchtdrukmeting
Display maanfase
Klok
Datumstempel
Trendindicator voor weersveranderingen
Meetbereik van de interne temperaturen
Buitentemperatuur meetbereik
Vochtigheidsmeting (intern en extern)
Foutgrens voor vochtigheidsmeting
Bereik van atmosferische drukmeting
Foutgrens voor drukmeting
Sensorbereik: 60m
Afmetingen van het station (lengte / breedte / hoogte): 17,5 / 17 / 13cm
Sensorafmetingen (L / W / H): 5 / 2.5 / 9.5cm
de lengte van de kabel: 150cm
de stroomvoorziening van het station: 2x AA (niet inbegrepen)
Sensorvoeding: 2x AA (niet inbegrepen)
de voeding van het station: 2x AA (niet inbegrepen) Sensor voeding: 2x AA (niet inbegrepen)
Het station heeft achtergrondverlichting - als het product wordt gevoed door het netsnoer, brandt het station constant, maar wanneer de batterij in gebruik is, gaat de achtergrondverlichting 15 seconden mee en gaat deze in de slaapstand om het leeglopen van de batterij te verminderen
BUITENSENSOR - wanneer de sensor buitenshuis wordt geïnstalleerd, stuurt hij draadloos actuele informatie over het weer naar ons station.
VOORSPELLING - dankzij de constante bewaking van temperatuur, druk en vochtigheid, analyseert het station weersverwachtingen voor de komende 12-24 uur en informeert ons daarover.